1 year warranty
WARRANTY INFORMATION
We offer a free 1-year warranty from CPS third party warranty company and extended paid warranty up to 4 years. The price of the extended warranty is very reasonable and includes labor and parts. (You may have to pay a deductible for the warranty service to CPS $99). The first 30 days warranty is covered by the store, which also includes labor and parts. The warranty company covers the rest of the term. Since we are a scratch & Dent store, if the internal function of the unit has any issues during the first 30 days, our store will take full cover for it. If the issue is caused by the third party or the customer, the store will charge a $50+ service fee. (Depending on the situation)
Warranty Services
CPS (Same third party warranty company that Lowe's uses). $99 service fee per case, the warranty including labor and parts.
CPS will fix it first. If it can not be fixed, CPS will replace it. If you don't like the replacement, you will get money back based on the replacement value.
Customers must register their warranty within 30 days. You will lose the warranty after 30 days without registering.
1-3 DAYS REPAIR SERVICE
REPAIR SERVICE
We offer our very own 1-3 Days repair service that comes with all appliances purchased from us. If for any reason you have any problems what-so-ever with your appliances, give us a call, and we will be out there within 1-3 Days to fix the problem. We believe customer service shouldn't end after you make the purchase, so we're here with you through the whole process, even after installation.
Store Policy
Warranty and Disclaimer
Warranty:
1. You will lose your warranty if you don't register your warranty within the 30 days of the purchase date.
2. CPS Warranty can not be Extended, you have the option of a 1 year, 2 year, 3 year or 4 year warranty on your unit.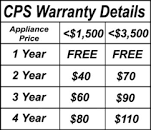 3. Each appliance comes with 12 months Warranty,
  (First 30days Store Warranty and 11 month of CPS.)
4. If there is a problem with the unit, we need to go thru the steps below. If it can not be fixed, then Step 2, then Step 3. Must let us try to fix it first.
(1st Fix, 2nd Replace, 3rd "Last" Refund)
5.Brand New item comes with Manufacturer Warranty.
Disclaimer:
6. Customer's sole & exclusive remedy under this purchase shall be product or replacement under Appliance4Less Baltimore's store policy. Claimes based on implied warranties, including warranties of merchantability or fitness for a particular purpose are limited to the shortest period allowed by law. We shall not be liable for any consequential or incidental damages such as property damage & incidental expenses resulting from customer's use of the appliance.
7. We are not responsible for any fees between customer and the financial institutions, SNAP, ACIMA & Kaolafi.
CPS Warranty important notices
CPS Warranty Service includes Parts and Labor. Each service request is subject to a $99 deductible.
Must Register Warranty within 30 Days of the Purchase Date Must Upload Invoice Image to Complete Registration.
You will void your Warranty by removing "KW# Sticker" on the appliance!
(Warranty exceptions are found in the pamphlet. Please read it carefully to understand the benefits. "Below")
CPS 1-800-905-0443